It's happening, and it's happening soon! *attempts happy dance* *stumbles around messy room* My month-long (or longer) marathon of 2014 dramas is approaching! This time next week, or at the end of next week, I will be beginning my summer vacation in the most sleepless way possible.
I have not seen the Lucky Star anime yet, but I'm fairly certain this picture is severely of context.
Whatever works.
My incessant references to this marathon should be self-explanatory, but it'll help to put this list in context before I actually show you all the list. These will be dramas that have either completely or nearly completely aired in 2014. For example, Emergency Couple is a 2014 drama, and aired entirely in this year, but I also consider dramas like Melody of Love (which I'm still getting into) and Empress Ki as 2014 dramas because the majority of their respective episodes aired this year as well. The dramas also are ones that have already started airing before the end of the school year, or have already wrapped up. By pleasurably burdening myself with this list, I'm giving myself the chance to not only view some of the newer dramas, but also to improve my ability to marathon dramas in general.
One of my friends has the marathoning ability I so desire. She can start a 16-20 episode drama and finish it within twenty-four hours. On Facebook, I end up tracking her Viki activity as she progresses through a drama at lightning speed. I, on the other hand, take a few weeks to complete the same dramas. This is partially because, while my friend watches one drama at a time, I watch around five, give or take. However, I also just haven't honed the skills necessary to watch the majority of a drama in a day. The only drama, as of yet, that I've been able to start and finish in less than twenty-four hours was Limit, a Japanese drama with twelve half-hour episodes. (To me, this also means that I have the skills necessary to complete an anime of the same length within the same time span; I just don't because...I just haven't done so yet.)
That will hopefully change with this partial summer drama insomnia. Well, my skills will have to change if I want to get through most of the dramas on this list.
The position each drama has on the list denotes its priority, but the positions really don't say anything about when I'll end up watching it. Emergency Couple used to be number 6 on the list until I began watching it a few weeks ago and removed it from the list. (As you'll see, it's back on the list because I've placed the drama on hold for a little while.)
1. You're All Surrounded (Korean)
Airing period: May 7, 2014 - July 10, 2014
Can a new group of rookie detectives protect the people of the swanky Gangnam area of Seoul against violent crimes? Eun Dae Gu (Lee Seung Gi) is a rookie detective who has the IQ of 150 but uses his foul mouth and tough attitude to mask his painful family history. Fellow rookie Eo Soo Sun (Go Ah Ra) is the sole female among the new hires but won't let anyone push her around, even Seo Pan Seok (Cha Seung Won), the team leader of the violent crimes unit. Can the young new officers prove their worth?
2. Gap Dong (Korean)
Airing period: April 11, 2014 - June 14, 2014
My reasons for interest: based on true murder cases; looks really dark; Yoon Sang Hyun (Detective Cha from I Hear Your Voice)
Summary (from MyDramaList):
Moo Yeom is a detective. 20 years ago, he was a Buddhist monk, but he got into trouble with a man named Gap Dong. To cut ties with him and cut off whatever karma would arise from his involvement with Gap Dong, Moo Yeom became a detective. After the statute of limitations expired, Gap Dong appears once again. Moo Yeom sets out to catch him once and for all. ~~ Drama series is inspired by the "Hwaseong serial murder case".
3. Prince William (Taiwanese)
Airing period: April 25, 2014 - ?
My reason for interest: I want to start watching Taiwanese dramas; supposedly short length; identity switches and lookalikes (cliche, but fun)
If you had a chance to live a much different life, would you take it? A happy-go-lucky fishmonger, Liu Wen Bin (Ah Bin) (Xie Kun Da), lives and works in a small village and has for the most part been content with his way of life. But one day, he meets Yi Wei Lian (William) (also played by Xie), a city man who has been involved in an accident. Because he bears such a strong resemblance to William, Ah Bin is forced into a situation where he has to assume the identity of William. But can Ah Bin fool William's sister, Yi Xin (Andrea Chen), a journalist, and keep her from discovering his true identity?
(To be honest, I'm about to start one of the Taiwanese dramas on this list right now, just because I want to. This is actually part of why I put Emergency Couple on hold. :P)
4. Platonic (Japanese)
Airing period: May 25, 2014 - ?
My reasons for interest: the plot really catches my attention for some reason. I'm really excited to see this drama, as long as I can find some site that is subbing it.
Summary (from wiki.d-addicts.com)
Midnight. On a certain website, Sara types "If you are dying, please donate your heart to my daughter". In an Internet cafe. The young man taps slowly on the keyboard. When Sara next rechecks the website, she sees a reply. "I would like to give my heart". And thus, the mysterious young man enters single mother Sara's life. When she falls in love, it is time for the young man to die. Is that what fate has in store for Sara?
5. Love Myself or You? (Taiwanese)
Airing period: May 23, 2014 - September 26, 2014
Episodes: 20
My reasons for interest: I want to start watching Taiwanese dramas; and the plot sounds cute enough. (Well, cute-ish.)
Summary (from DramaFever):
Things are heating up in Love Myself or You? and it's not just the food! There are only two things that make sous chef Du Kai Qi (Puff Guo) happy: comics and food. She needs no man in her life except for Chef Louis, a renowned master chef in French cuisine whom she admires from afar. When a new intern, Fu Zhi Jie, plops right into her kitchen Kai Qi finds her own temperature rising as she has no time to deal with a clueless and clumsy intern. Little does she know, Zhi Jie is the youngest son of the restaurant owner and the very same Chef Louis she admires!
6. Lovestore At the Corner (Taiwanese)
Airing period: April 18, 2014 - ?
Episodes: 27
My reasons for interest: I really want to start watching Taiwanese dramas.
Summary (from Viki):
A corner bookstore in a small town may hold clues to a woman who went missing after going to Bi Jia Mountain alone years ago. Xiang Shu Lei (Lee Wei) was dating Du Ke Jie (Tracy Chou) but had an affair with her friend, Dong Xin Ni (Chloe Wang). One day, Ke Jie goes to Bi Jia Mountain alone and never returns. Riddled with guilt, Shu Lei and Xin Ni break off ties with each other. Ke Jie's younger sister, Ke Xing (Nikki Hsieh), and her parents are heartbroken over her disappearance but gradually come to terms with the fact that they will never see her again. They begin to pack up Ke Jie's belongings, not knowing that Shu Lei has secretly taken all of Ke Jie's beloved books. Then tragedy strikes again when Shu Lei gets into a car accident and loses his memory. He then moves to the small town of Yi Lan and opens a bookstore with Ke Jie's books. When Ke Xing finds the store and discovers Shu Lei's amnesia, she and her boyfriend, Li Ze Xuan (Alien Huang), try to job Shu Lei's memory for their own personal gain. But will Ke Xing's feelings get in the way of their plan?
7. God's Gift - 14 Days (Korean)
Airing period: March 3, 2014 - April 22, 2014
Episodes: 16
My reasons for interest: suspenseful plot; the first few minutes looked artsy and interesting; Lee Bo Young (I Hear Your Voice)
Summary (from Viki):
When a mother loses a child, she harbors many regrets and broods about the many things she would have done differently if given another chance. Kim Soo Hyun (Lee Bo Young) always pushed her daughter, Saet Byeol (Kim Yoo Bin), to not only do well in school but also to always come in first place. But tragedy strikes when Saet Byeol is kidnapped and killed, leaving Soo Hyun and her husband, Han Ji Hoon (Kim Tae Woo), with no clues as to who could have done such a terrible thing and why. Detective Ki Dong Chan (Jo Seung Woo) struggles to find the killer, while Detective Hyeon Woo Jin (Jung Gyu Woon), who shares a past with Soo Hyun, tries to do what he can. But when Soo Hyun is given a chance to go back in time to change the course of events, can she find the killers and save her daughter's life in time?
8. A Witch's Romance (Korean)
Airing period: April 14, 2014 - June 10, 2014
Episodes: 16
My reasons for interest: Yoon Hyun Min; it looks cute
Summary (from Viki):
It's understandable to lose your faith in love after being stood up on your wedding day. Ban Ji Yeon (Uhm Jung Hwa) was devastated and then believed that marriage wasn't for her. The 39-year-old has focused on her career as a reporter, so seriously that her colleagues refer her to as a witch, and put her romantic life on the back burner. But when Ji Yeon meets Yoon Dong Ha (Park Seo Joon), the 25-year-old owner of a small errand center, she finds herself in an unexpected December-June relationship that could thaw her hardened heart. But will her life become further complicated by the return of her former fiancé, No Shi Hoon (Han Jae Suk)? It is a remake of the hit Taiwanese drama "My Queen."
9. BORDER (Japanese)
Airing period: April 10, 2014 - June 5, 2014
Episodes: 9
My reasons for interest: some of my unnis have been watching this; and I can sometimes be persuaded to be interested in the now-I-can-see-dead-people premise.
Summary (from gooddrama):
Ishikawa Ango (Oguri Shun) is a detective with smarts and a keen sense of observation. He's in a great physical shape and also highly ambitious. Ango also only focuses on his work and his personal life is pretty much non-existent. One day, a former police officer is killed by a gun shot. Ango goes to the scene of the crime, but is shot in the head by the killer who is lurking at the crime scene. Ango hovers between life and death. At that time, he thinks to himself "where do people go after they die?" and then "I don't want to die." A miracle then happens. Ango survives with the bullet still lodged in his head. He goes back to work. A new murder case takes place. When Ango goes to the crime scene he notices a boy who looks like he is about to cry, but only Ango is able to see the boy. The boy is the one who was killed. Since Ango was shot, he can now see and talk with the dead.
Do you all remember when I mentioned Emergency Couple a few times earlier in the post? You know, the Choi Jin Hyuk-and-Song Ji Hyo drama that I put on hold?
10. Back to Emergency Couple (Korean)
Airing period: January 24, 2014 - April 5, 2014
Episodes: 21
My reasons for interest: people say it's cute; why not put a little comedy into my dramas of darkness?; I started it and I should probably finish it. I've completed six episodes.
Summary (from DramaFever):
Choi Jin Hyuk and Song Ji Hyo star in this playful and sexy drama about a medical school student, Chang Min, and a dietitian, Jin Hee, who fall in love and marry despite his family's strong opposition. When Chang Min marries Jin Hee, he gives up his medical internship to become a pharmaceutical salesman despite the fact that the rest of his family are successful doctors. Their married life is miserable as Chang Min's family looks down on Jin Hee and Chang Min begins to treat her poorly. They finally divorce and go their separate ways until they are suddenly reunited as interns working at the same hospital. Will this couple's tumultuous feelings for each other be rekindled?
(Fun tidbit: I started this because I asked my mom to pick a number from this list as it was at the time, and she chose the number that corresponded to this drama. I find it funny because after starting the drama, I realized that this might be a drama my mom might enjoy. However, I'm a nice daughter, so I won't bring my mother into the sandpit that is the Asian drama obsession.)
11. Bride of the Century (Korean)
Airing period: February 22, 2014 - April 12, 2014
Summary (from DramaFever):
In this fairytale-like melodrama, Choi Kang Ju (Lee Hong Ki) is the cold heir of one of Korea's most powerful conglomerates, Taeyang Corporation. He is engaged to an eligible young lady named Jang Yi Kyung (Yang Jin Sung), but there's just one problem: the first bride of the family's first son is always cursed to die. The curse began 100 years ago when the bride of the family's first son had a tragic death. Suddenly, before the wedding, Yi Kyung disappears and the company conspires to replace her with a look-alike, Na Doo Rim (also played by Yang Jin Sung), a country girl from a small southern island who has a scheme of her own.
Airing period: March 5, 2014 - May 8, 2014
Episodes: 16
My reasons for interest: I would say Yoochun, but my only experience (literally, the only one) with him was in Sungkyunkwan Scandal, so I'm not really sure I care. A couple of my unnis watched this, so I guess that counts as a reason. Also, the premise seems exciting enough.
Three days can change the destiny of a country. South Korean President Lee Dong Hwi (Son Hyun Joo) goes to a remote villa for vacation. Three gunshots ring out, and the president disappears. Han Tae Kyung (Park Yoo Chun) and his colleagues in the Blue House Secret Service, with the help of Police Constable Yoon Bo Won (Park Ha Sun), have only three days to investigate the mysterious disappearance and find the president. Can Tae Kyung expect help or hindrance from those around him, including Chief Secretary Shin Kyu Jin (Yoon Je Moon), SWAT Team Agent Lee Cha Young (So Yi Hyun), and Presidential Security Service Chief Ham Bong Soo (Jang Hyun Sung)? Can Tae Kyung beat the clock to find the president?
13. Cunning Single Lady (Korean)
Airing period: February 17, 2014 - April 24, 2014
Episodes: 16
My reasons for interest: Jang Yi watched and loved this drama; she also played me a couple songs from the OST that I think are really pretty.
Could she have been a little too rash in divorcing her husband? Na Ae Ra (Lee Min Jung) marries the nerdy genius Cha Jung Woo (Joo Sang Wook) but divorces him when he fails to achieve the success she wants. Although a little self-absorbed, Ae Ra learns that life is not that glamorous as a divorcée and learns to live on her own through sheer hard work. But when Ae Ra finds out that her ex-husband went on to achieve success after their divorce and is now the president of D&T Software Ventures, a venture capital company, she schemes to win him back. But can Ae Ra carry out her plan when Gook Seung Hyun (Seo Kang Joon) has his eyes set on her and his older sister, Gook Yeo Jin (Kim Gyu Ri), also vies for Jung Woo's heart?
14. Flower Grandpa Investigation Unit (Korean)
Airing period: May 9, 2014 - July 25, 2014
Episodes: 12
My reasons for interest: Come on, who doesn't want to watch a bunch of cute, old people in a drama, acting cute together?
Summary (from wiki.d-addicts.com):
The story about three detectives in their 20's who transform into old men in their 70's overnight and one elite detective who luckily stays young as himself. The drama will comically tell the story of the three detectives trying to regain their young bodies back.
15. Angel Eyes (Korean)
Airing period: April 5, 2014 - June 8, 2014
Episodes: 20
My reasons for interest: I really don't know...It sounds sweet? Seungri?
Summary (from Viki):
Can first loves reunited after more than a decade have a second chance at happiness? Park Dong Joo (Kang Ha Neul) fell in love with a blind girl, Yoon Soo Wan (Nam Ji Hyun), when they were teenagers, but their families' histories forced them to part ways. Twelve years later, Dong Joo (Lee Sang Yoon) becomes a successful surgeon, while Soo Wan (Gu Hye Sun) has undergone an eye transplant that has restored her sight and now works as an emergency 119 operator in her desire to help others. When the two meet again so many years later, will they recognize each other as their first loves?
16. A New Leaf (Korean)
Airing period: April 30, 2014 - June 26, 2014
Episodes: 20
My reasons for interest: it has an interesting amnesia plot; Park Min Young (mostly the plot, though); I'm curious to see what Lee Min Hyuk is doing outside of his short appearance in Doctor Stranger; also, Jin Yi Han from Empress Ki. (There is no better reason than Jin Yi Han when it comes to this drama.)
Is it possible to retrace your life and return to your old self when you have no memory of it? Kim Seok Joo (Kim Myung Min) is a vicious corporate attorney who uses whatever means available to him to win his cases and get his way. But he is involved in a sudden accident that leaves him with amnesia. As he struggles to retrace his former life to return to the person he used to be, he begins to see life and work very differently, which puts him at odds with his former mentor and boss, Cha Young Woo (Kim Sang Joong), who cultivated Seok Joo's killer instincts. Lee Ji Yoon (Park Min Young), a young intern at the law firm, begins to see Seok Joo in a new light, while his fiancée, Yoo Jeong Seong (Chae Jung An), must decide how she feels about the new Seok Joo.
17. Shinigami-kun (Japanese)
Airing period: April 18, 2014 - June 20, 2014
Episodes: 9
My reasons for interest: The plot of a death god and his messy relationship with his authority figures sounds fairly entertaining, if I do say so myself.
Summary (from gooddrama):
Shinigami-kun (Ohno Satoshi), alias grim reaper #413, is a rookie who pronounces the death of those scheduled to die and brings souls to the nether world. He would appear with the signature phrase "Congratulations! I'm here to call on you" although it is hard to say how this can be a happy occasion, and watch over the dying. To a grim reaper, persuading people attempting to commit suicide and preventing unforeseen deaths is also an important task. But because #413 is new to this grim reaper work, he has a tendency to lean towards humans in his judgments, break the rules of the nether world and get reprimanded by his superior.
18. Jeong Do Jeon (Korean)
Airing: January 4, 2014 - ?
Episodes: 60
My reason for interest: Back when it was still planned for 50 episodes, I thought a drama about the beginnings of the Joseon dynasty sounded educational. As such, it grasped my interest.
Summary (from KBS World):
The late 14th c, Goryeo. Abuse of power and corruption made people to leave the government offices and only the corrupted people are left in the high offices. When there seem to be no hope, there are a group of young people who values the meaning of scholar heavily. They are the Sungkyunkwan scholars who have dreams to bring peace to the world and they were the hope of Goryeo. Sambong Jung Do Jun is one of them. He believed that the old corrupted government should be destroyed and the destiny of scholars is to build an idealistic country.
19. Into the Flames (Korean)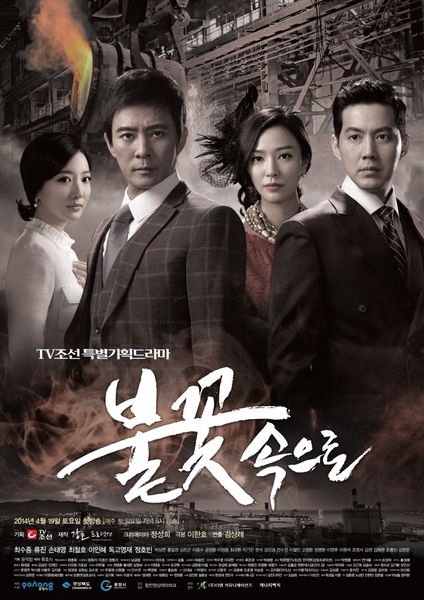 Airing period: April 19, 2014 - June 20, 2014
Episodes: 20
My reasons for interest: Although not as sageuk-y as Jeong Do Jeon, I still expect Into the Flames to give me a bit of insight into how South Korea has become the nation is now. Also, the economic growth of South Korea in the 1980s and 1990s was the only mentioning the nation got in my AP World History textbook last school year, and I'd like to know why. I doubt I'll get my answer, but it's worth a try.
Summary (from MyDramaList):
The true story of chairman Park Tae-joon who lead the impossible to success along with various fictional stories that show the financial growth of Korea.
20. Golden Cross (Korean)
Airing period: April 9, 2014 - June 12, 2014
Episodes: 20
My reasons for interest: Just like Angel Eyes, I'm not really sure why I want to watch this...It has that girl who was in Playful Kiss and Boys Over Flowers? The revenge plot? *shrugs*
Summary (from DramaFever):
In this thrilling melodrama, the Golden Cross is a group of the top 0.001% richest and most powerful Koreans who control politics and the economy through conspiracies and stratagems. When Kang Do Yun (Kim Kang Woo) gets involved with one of their schemes, his sister ends up losing her life at the hands of one of its leaders. After his father is framed for the murders, Kang Do Yun vows to bring the corrupt group down, becoming a prosecutor seeking revenge. His plan gets complicated, however, when he falls for the daughter (Lee Si Young) of the very man responsible for the death of his family.
21. Wonderful Days (Korean)
Airing period: February 22, 2014 - about August 10, 2014
My reasons for interest: I did find out about this just after seeing Dream High and finally figuring out who Taecyeon is...It sounds somewhat sweet, I guess, with the plot about reuniting brothers and whatnot. (Oh, and Lee Seo Jin from Soul has a leading part as well. That's kind of more ties into my pride in my recognition skills...)
When you leave your home and family for a better life, can you really go back? Kang Dong Seok (Lee Seo Jin) and his siblings grew up in poverty, and he was desperate to escape his poor upbringing and find a better life. He leaves home at the age of 18, puts himself through school and becomes a successful prosecutor. But with a hole in his heart and a longing for family, Dong Seok returns to his estranged family after 15 years. He finds his older brother, Kang Dong Tak (Ryu Seung Soo), working as an events MC while dreaming of breaking into acting and his twin sister, Kang Dong Ok (Kim Ji Ho), still unable to do anything for herself after a childhood accident leaves her developmentally challenged. His younger brother, Kang Dong Hee (TaecYeon), also barely makes a living working as a bodyguard. But when Dong Seok learns that Dong Hee works in the same company as Cha Hae Won (Kim Hee Seon), his first love, will he find his true reason for returning home?
I'm thinking that, instead of watching the next episode of Nice Guy for Operation: Kdrama Chat, I'm just going to go start either Lovestore at the Corner or Prince William after wrapping up this post. This has been my plan since about 5 o'clock this morning. :) (Although spending two-and-a-half hours putting this post together was not part of my agenda for today...I'm most enthusiastic about blogging when I blog spontaneously.)
Between the two of those dramas, I think I'll make the decision by flipping my Almighty Moltres Coin of Decision Making...
Obviously, as evidenced by me starting either the number 6 or 3 drama on the list, this lineup does not predict the order I'll be watching these dramas in. Also...there's no way I'm going to get to all of these dramas by the end of July. I'm going to attempt to, though. Will my schedule be free enough? Psh, I don't know. Will my motivation push me through the dramas at the speed I want? Probably not...Maybe this is why I like turtles so much...
Okay, it's time for some self-encouragement. (Note: like the first photo of this post, the last photo is taken extremely out of context.)
This is my "encouragement" face.
If there are any dramas that you don't see on this list that you want to recommend for the marathon or for after the marathon, just comment below! Or you can message me because I'm cool like that. :)
(For the exceptions to that last request, see my PPIF post and my drama list *points to link in side bar. Also, just in case you were wondering, my Almighty Moltres Coin of Decision Making chose Lovestore at the Corner. :D)r*)