Or
Ms. Panda and Mr. Hedgehog
, or
Panda and the Hedgehog
, or as I sometimes call it when I'm texting Jang Yi and I'm too lazy to write out the name,
P & H
. (To be honest, I'm debating with myself on whether or not to call it
P & H
throughout this post...)
Speaking of Jang Yi, she was the reason I watched this. One day, she came over to my house and we were trying to figure out what K-drama to start. This was her suggestion, and since it had been on my TBW list, I agreed.
She wanted to watch Panda and the Hedgehog because of Super Junior's Donghae (the guy with the hedgehog on his shoulder...), but other people may have other reasons. Then there are other, other people who may want to try and introduce friends to the fandom of K-pop and Kdrama. So, as the creator as well as the chief (and only) writer of this blog series, it is my job to provide...incentives for viewing this Donghae special.
But first, here is the summary, as I've realized that such a thing might be useful within the context:
Set in the backdrop of a sweet bakery, this Channel A romantic comedy proves that people can live up to the prophecy of their names. Pan Da-yang (Yoon Seung-ah), whose name sounds like the lovable "panda," is a sweet, upbeat owner of a bakery called Cafe Panda. Ko Seung-ji (Lee Dong-hae), a new pastry chef she hires to work for her, has a name that is a shortened version of the word for "hedgehog" and has the prickly cold personality to match. As the opposite personalities try to work together to make Panda's small bakery a success, [while] they try to compete against a national cake franchise business called Saint-Honore, which happens to be owned by Choi Won-il (Choi Jin-hyuk), Panda's first love. Her best friend, Kang Eun-bi (Yoo So-young), works for Won-il, but their close friendship is challenged when Eun-bi falls for Won-il, who still has feelings for Panda. When the clashing Panda and Hedgehog also develop feelings for each other, their working relationship and friendships are put to the test. "Panda and Hedgehog," also known as "Miss Panda and Mr. Hedgehog," is a 2012 South Korean drama series directed by Han Joon-young. It is the much-anticipated new series starring Donghae from the popular K-pop boy group, Super Junior.
Now, this particular Kdrama isn't the most exciting one, and although I personally enjoyed the series, the plot doesn't really pick up until the last few episodes. However, some may be okay with this series being a person's first Kdrama...
Let's see why...
1) The food is cute.
The motivations behind some of Ko Seung-ji's treats are sweet, too.
2) Ko Seung-ji's drawings are cute.
Even though Donghae himself can't draw to save his life.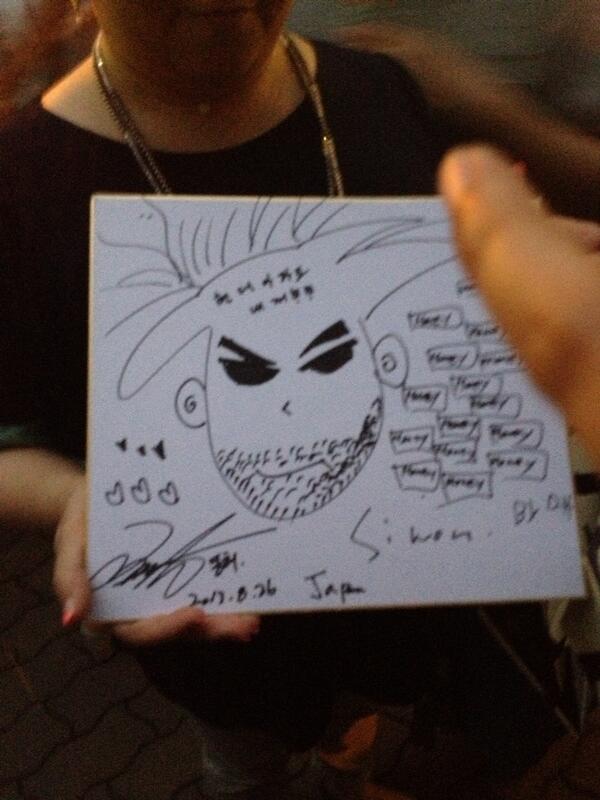 3) Nevertheless, the boys are cute.
Ah, there goes my heart. (I'm not even an ELF yet, and this just kills me.)
(gif URL)
(I tried...)
You two... (*shrug*)
3) Even Ko Seung-ji's grandfather is adorable.
\
4) Choi Won-yi. This girl is funny, but she still touches your heart. (She's also adorable when she calls a guy "hyung," which first-timers will learn later on is an incorrect address.)
Her words, not his.
(Note: the girl on the far left is Panda, the female lead, played by Yoon Seung-ah.)
5) It's a story of powerful friendship and love that unknowingly ties family members together.
Omo, omo, omo, you are an awesome grandfather. (Then there's the mother next to him...eh, she's useful in the plot, at least.)
6) You'll learn an important word that will become a part of your everyday vocabulary.
Aish, they say the word "aish" a lot...and so do I.
7) Have I mentioned how cute this drama is?
Come on, I know that at least a few people would love to be in Pan Da-yang's place right now.
8) (Geez, how much nostalgia is this show giving me? So far, I haven't had this long of a list on "Friday the First"... Eh, three's the magic number, I guess, right?) The backstory given near the end of the series just makes you go, "AWWWW!" For me, anyway...
Cry it out, buddy. Cry it out.
***SMALL-ISH SPOILER***
Ohhh, part of me really wants to put up the picture of Donghae in the scene when his character gets his head bashed up...
****END OF SMALL-ISH SPOILER****
But seriously, if a friend of yours thinks Donghae is pretty, likes cuteness, can be coerced into liking cuteness, and/or likes shows about cake...just...try this.
Disclaimer: Pamela is not responsible for any arguments, addictions, loss of social lives, increased understanding, or ridicule that may result from this post.